The world of hands free fishing kayaks has a new player in town. US powerhouse, Confluence Outdoor, have been busy working away on three propeller based models. The first of these, under the Perception brand, has just arrived in Australia and we have taken our demo boat for a quick spin in the waters of St George's Basin to check it out.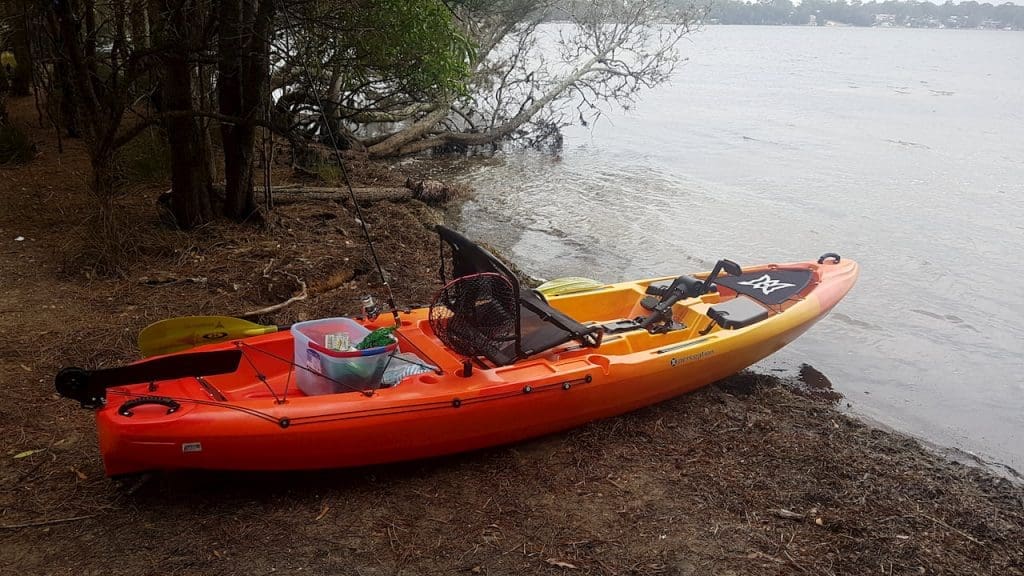 Let's get straight to the all important pedal drive….it's a prop based system which means easy backward and forwards propulsion. It's attached to a solid metal housing via two pins. To stow away, it neatly swivels into the pedal scupper and is locked into place. The main advantage of this system is that it stays quite low on the deck so the kayak can be easily paddled and fished on in shallow water or over weed beds with the pedal drive stowed away and not getting in the way on the deck. If it gets fouled up with weeds etc, it is a bit fiddly to get to the prop as it does not swivel onto the deck without taking it completely out of its housing. With a bit of practice, I quickly got the hang of the mechanism and it was easy to work with. Cruising speed can be easily maintained at 6 km/hr and I got it to 7 without too much lung power. It feels pretty smooth and easy to pedal.
There was a bit of wind around and the boat and drive handled chop and upwind paddling without much fuss. The rudder system is a straight forward traditional trailing rudder which can be flicked up and stowed onto the deck while sitting on the kayak.
The seat is comfy and easily adjusted for leg length and back support. The seating position is quite high which allows for easy pedaling and fishing while seated. The kayak has 238kg of capacity and I found standing up on it quite easy. Even in a fair bit of wind, I was comfortable standing and casting.
The storage and outfitting are major draw cards of the Pilot. You really get a fair bit for your money here. There is a convenient paddle park to stow your paddle while using the the foot drive. Universal track mounts are included for mounting of extra rod holders, fish finders and other accessories. Storage includes large stern and bow wells – the bow has stretch netting over it, very simple but practical. The two front consoles and universal transducer bracket are well thought out and allow for easy fitting of a fish finder system. The other console doubles as glove box storage for bits and pieces (phones etc) or fishing tackle. Four molded rod holders are a nice touch – while they are quite wide and not as neat as some flush mounted systems, they do the job and come standard as part of the kayak package.
In conclusion………..you get a lot for your money here. AT $2,599 this represents outstanding value when we take into account the US manufactured hull, quality of components and outfitting of this kayak. While still quite new on the market as a pedal model, Perception is a quality brand that has been around for a long long time, and they don't make poor quality gear. This is an all round package that has all the key features. It comes across as well made and thought out. The drive system is smooth on the water and is easy to mount. This is a game changer at this price point and will give the established players a run for their money. We will continue to play with the Pilot and hopefully it can help bring in a few flatties!!