Delta Kayaks out of Canada have been massively popular with Aussie paddlers over the years – and one of the most popular brands in our store.  I had an opportunity to give one of our Demo Delta 16s a really solid workout in open water conditions over a two day coastal trip from Ulladulla Harbour to Vincentia in Jervis Bay. With around 70km of coastline, there were a variety of conditions to play in, including crossing of river bars, steep cliffs generating confused rebounding seas, and some exposed stretches of coast open to the full brunt of prevailing wind and sea conditions. Two solid days in the cockpit of the Delta 16 allowed a proper test in all of these environments and provided an excuse to spend some quality time exploring this amazing coastline.
Weather conditions were moderate with 1-2m southerly swell against a N to NW sea. For about 90% of the trip I was paddling into or beam on to N to NW winds – this seems to happen to me every paddle, no matter which direction I go. This included 2-3 hours of 15- 20 knot winds hitting my beam which tested the boat's handling…and my patience. Below is a brief overview of my observations. We are always happy to chat about our range of sea kayaks so please feel free to get in touch with any questions or to offer any views or observations – we also have a range of sea kayaks available for test paddles and are happy to arrange a 1 on 1 demo all year round.
Getting it to the Water
I must say that this is one area where Delta kayaks really excel – the thermoformed plastic construction is light – weighing in at 21kg for a sea kayak at a tick below 5m is excellent. I move a lot of sea kayaks around and always love handling the Deltas. I can easily load (or unload) it straight off the shoulder onto my Prado and slide it onto the cradles – and same in reverse. Compared to rotomolded plastic and standard composite glass boats, the light weight construction is a real asset particularly given the price point of these kayaks.
Packing
With no day hatch on the back deck, packing for two days was straightforward and I had loads of space to spare. There would have been no problem fitting in extra food and water for a longer outing. The stern hatch opening can easily accommodate fully loaded 20L dry bags. I like the configuration of a small day hatch on the font deck and full hatches at the bow and stern. The absence of a stern day hatch is a big advantage for multi day packing. The day hatch on the Delta looks small but fits all of the kit needed for the day and it does not get in the way of the paddler's legs when entering or exiting the cockpit. There is also sufficient room behind the seat for a paddle float, sponge, bailer and cag.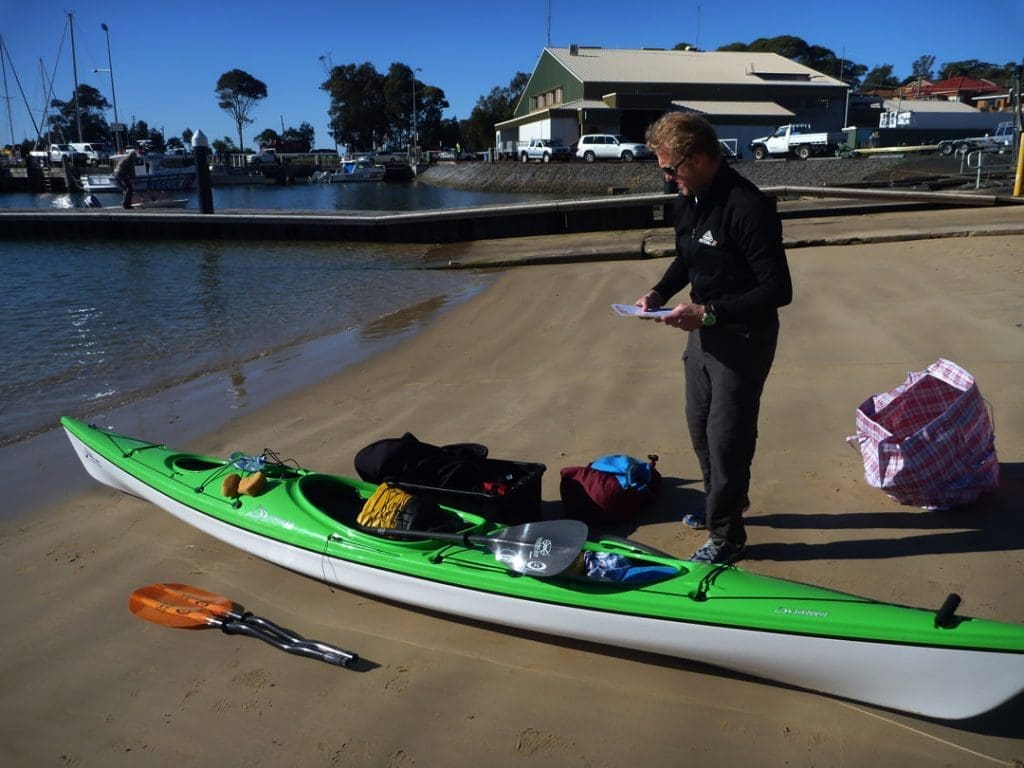 Hatch Covers
I can talk about hatch covers all day long (I'm a hit at parties!!)…….I want them to be easily opened and closed, 100% water tight and indestructible. Sounds fairly straight forward. Through frustration, hurt fingers, and wet sleeping bags we all know that these objectives are often missed. The Delta Kayaks approach is to use a single skin hatch system constructed with the plastic body and a rubber seal around the perimeter. While not perfect, I think Delta have had a really decent crack at meeting all my lofty goals. The hatches are snapped into place with the rubber seal fitting tightly around the coaming. A secondary bungee strap over the top locks them firmly into place for added security – I cannot see a situation, even in surf, where these hatches would pop open. With the use of a toggle and strap they are far easier to open than the full rubber hatches. Closing them can be a bit frustrating though – with a bit of manipulation required to pop them into place. The process sometimes takes a minute, and one quick curse word to make it work. Most importantly, they appear to be very dry. While I have not tested them in persistent surf – conditions on my trip were far from flat with hour after hour of chop washing over the deck and a bit of surfing over the river bar still producing bone dry gear. Even a few celebration rolls at the end of the trip did not let any water into any of the hatches.
The day hatch does require a bit of force to close and can be slightly awkward if conditions are fairly bit bouncy. So this ends up only being used during land based rest stops or when conditions are placid.
Comfort and outfitting
I am a small frame paddler at 170cm tall and around 65kgs. On day trips I would normally go for a tighter boat like a Delta 15s, however I opted for the larger kayak that would be faster and allow for more gear storage. Although a bit weary of the size at first, I found the ability to adjust seat position, foot pedals and back band, easily produced a comfortable fit. The boat has a 150kg capacity so can suit a range of paddlers – I found it very comfortable to cruise in. The Delta responds well to edging for directional control so knee and foot placement were important. If purchasing the kayak, I would invest in a Delta hip pad kit for a snugger fit that would aid in rough seas, surfing and rolling but I could easily manoeuvre the kayak and roll without the use of these during the trip.
The seat is excellent, comfortable with good ergonomics. I can be a harsh judge on comfort as persistent hamstring issues have caused me to develop numb feet within 10 minutes in the wrong boat. Thankfully no issues in the Delta – I did get tight hamstring and hips after some hours but that's more to do with my lack of long paddling days in the recent past. The fact that I could jump into the boat and paddle for two solid days with ease is fantastic.
The pedals are easily moved (even while on the water) with the use of a twist lock toggle system with the plastic materials not prone to corrosion. Once the toggle is locked off, the pedal a firmly secured and are rock solid. The moulded thigh braces are all finished off with foam padding making the kayak very comfortable without requiring further modification. The inside of the hull has a smooth finish as well which is not abrasive on feet and heels during a long day of paddling.
The deck outfitting is good quality with full deck lines and plenty of bungee for strapping of relevant gear. The spare paddle stowed securely on the back deck with sufficient room for a paddle float re-entry if required albeit the spare paddle shafts would get in the way a bit. No specific paddle float straps are fitted but the deck bungees could be utilised for this purpose. There is a tow point installed on the back deck and it looks rock solid. The only missing piece of outfitting are the paddle float straps which can be retrofitted.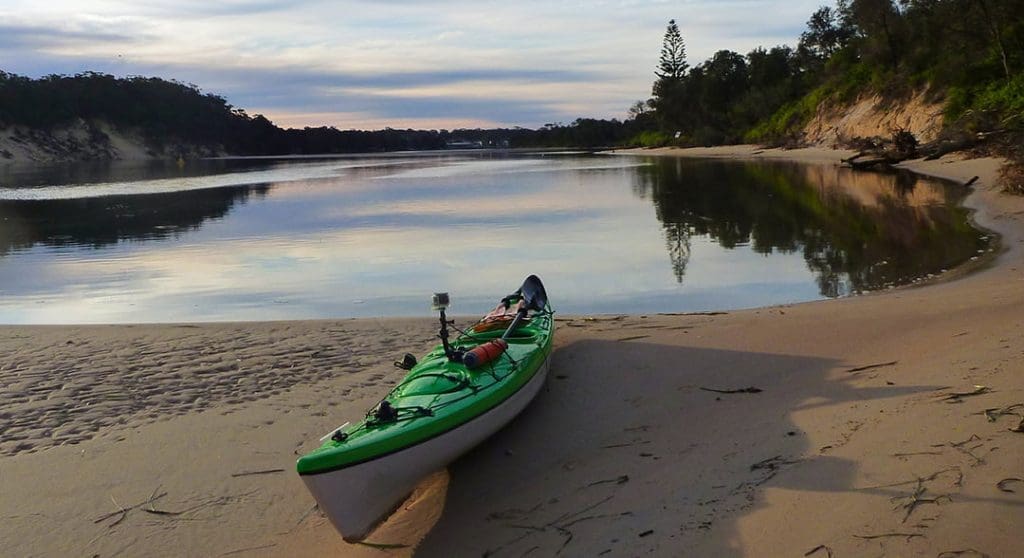 Performance and Speed
I think this boat would suit a range of paddlers from beginners looking to progress their skills to advanced kayakers looking for a lightweight all-rounder. The hull has a moderate V shape with a well a pronounced soft chine. Primary stability is very strong and would be reassuring to a novice. In sloppy and confused rebounding seas the Delta was very stable and I bobbed around taking photos of cliff faces without worrying at all about getting caught out – beginners will love this. However it does not take too much effort to edge the kayak and there is a definite a sweet spot on the edge which allows the boat turn easily and manoeuvre in rough and windy conditions. The hull has a moderate level of rocker that strikes the balance between manoeuvrability and cruising speed.
The kayak wast able to handle fresh beam winds well without a huge amount of weather cocking (turning into the wind) . I did have a period of huge frustration when a freshening beam wind persisted in leecocking (ie turning with the wind)  but I soon worked out that it was more of a packing issue with too much weight in the stern. Once this was rectified, the issue went away and the kayak was really balanced and responded well to edging. The turning ability isn't aggressive but in a dependable purposeful way, the paddler can manoeuvre, change course and deal with confused seas and wind. The small amount of downwind running that presented itself was easy with the rudder down without the stern squirting around.
The Delta is not a speed demon. However for a sub 5m kayak I think that its cruising speed is pretty respectable. There is minimum overhang over the stern and bow with the design aiming to maximise waterline length. Over the course of the two days, I averaged around 6.5kms / hr. This included frequent stops for photos and generally meandering around and looking at the scenery. Also 90% of the paddling was into the wind so I think it's a respectable outcome for the boat. Towards the end of day 2 when the wind dropped (finally) and the waters of Jervis Bay flattened out, the last 5 kms I cruised in a range of 7.5 to 8.5kms per hour (the taste of a cold beer may have contributed to this) hitting 9km/hr with a bit of effort. So for a day trip in an empty boat, I think maintaining a pace of 7-8kms / hr for an intermediate paddler is easily attainable.
Rollability
Well….after a 40km day, tired and a bit cold I was able to easily pull off a couple of rolls on both sides….that says it all – no issues there. The deck height is moderate in the Deltas, certainly allows for plenty of body rotation and the roll feels smooth without requiring too much effort.
Verdict
My overall impression is that this boat is full of pleasant surprises. It's an excellent all-rounder wrapped up in a light weight construction making it an accessible craft for a range of paddlers. Novices will find the comfort and stability very reassuring while experienced paddlers will be able to push it a fair bit. I think it's a fantastic option for paddlers wishing to develop their skills and start exploring the use of edge control and boat handling skills. The designers have struck the balance between often competing objectives of stability, manoeuvrability, speed and comfort have delivered a kayak that can accommodate a very comfortable day paddle in rivers and bays as well as deal easily with open water conditions and multi day trips across a range of conditions and respond to the full range of skills.
Delta kayaks are made in Canada and the workmanship and outfitting is first class. North American boats tend to be very comfortable and outfitting is a big focus. Overall a great package, particularly given the light weight construction and highly competitive price point.
We hope this is helpful, feel free to get in touch with the team at JBK to give one of these kayaks a test run.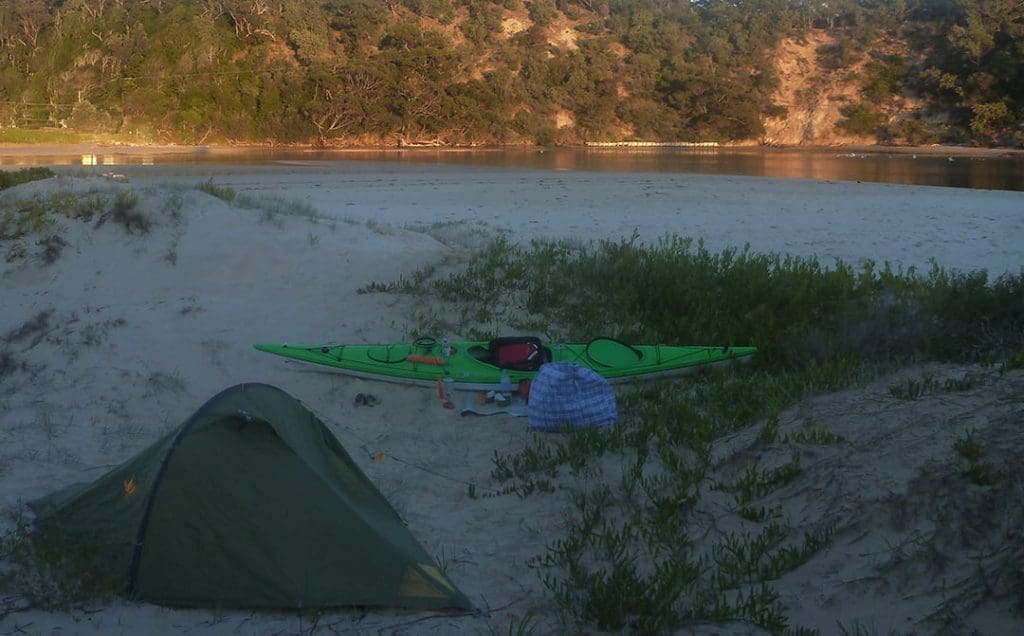 Technical Details
| | |
| --- | --- |
| Length: | 4.9m |
| Width: | 56cm |
| Depth: | 31cm |
| Cockpit: | 81cm x 43xm |
| Weight: | 21kg |
| Capacity: | 150kg |