Which fishing kayak is best for me
Over the summer I've managed to go out and do some fishing and have been lucky enough to have access to some fantastic demo kayaks. It's got me thinking about the different types of fishing kayaks out there and the benefits and limitations of different types of designs. Not necessarily about individual brands, features or technical statistics but more about the different styles. Having spent some hours lugging kayaks on and off the car, dragging them through forest tracks, over beaches, boat ramps, up and down hills and then paddling them through everything from surf and open ocean swells to sand flats and weed beds, I have experienced just about every environment that a fisho can expect. I have put together some thoughts to help wade through the myriad of options out there – and don't forget that it's not always the most fancy and expensive boat that is going to be best for you – in fact having too many features, with the additional weight and size can actually be an impediment for some anglers.
Firstly some questions to ask yourself right at the beginning:
Where am I paddling (and what species am I chasing) – am I sticking to estuaries and protected bays or am I going to face wind and swell. Will I be paddling over weed beds and sand flats or just in deeper blue water?
How far am I going to paddle?
Will I be using the kayak just for fishing or general paddling as well?
I am a serious gadget addict – will I be installing fish finders and GoPro mounts?
How long will I be sitting in the kayak and do I have any issues with my back, hips, hamstring's etc.?
How much gear am I carrying with me?
How far do I need to move the kayak to get on the water – will I have any issues with loading it on the car?
With that in mind, we can consider some various kayak styles:
The light weight minimalist recreational cross over
Sometimes overlooked – this type of kayak can be a great option. Typically these are recreational sit on top kayaks with a few fishing features such as rod holders, cleats or anchor trolleys. The great benefit to these kayaks is that they are light weight, easy to paddle, highly manoeuvrable and great value for money. Some examples are the Feel Free Nomad and Mission Catch 290 or Perception Pescador. All of these kayaks are great as general recreational sit on tops for those just wanting to cruise around – but can easily accommodate some serious fishing within calm waters. We have seen customers with basic sit on top kayaks consistently land monster fish. I have fished with the Nomad quite a bit of late, mainly in St George's Basin and some nooks within Jervis Bay. The great advantage of these types of kayaks is just their ease of use. It takes me 3 minutes to throw it on the Prado (or inside which it fits easily). When I'm by the water's edge, it's light and easy to drag through some scrub or narrow paths to get launched. In awkward spots such as steep banks or over rocks they can be easily picked up and moved around. When on the water I have a simple set up – two rods and a bucket with essential kit. Easy to paddle and very manoeuvrable, I use it to drift over weed beds or drop offs and work plastics or weighted hard bodies looking for flatties on the bottom. It's nimble and light enough for me to turn it around with the paddle in one hand while holding the rod in the other.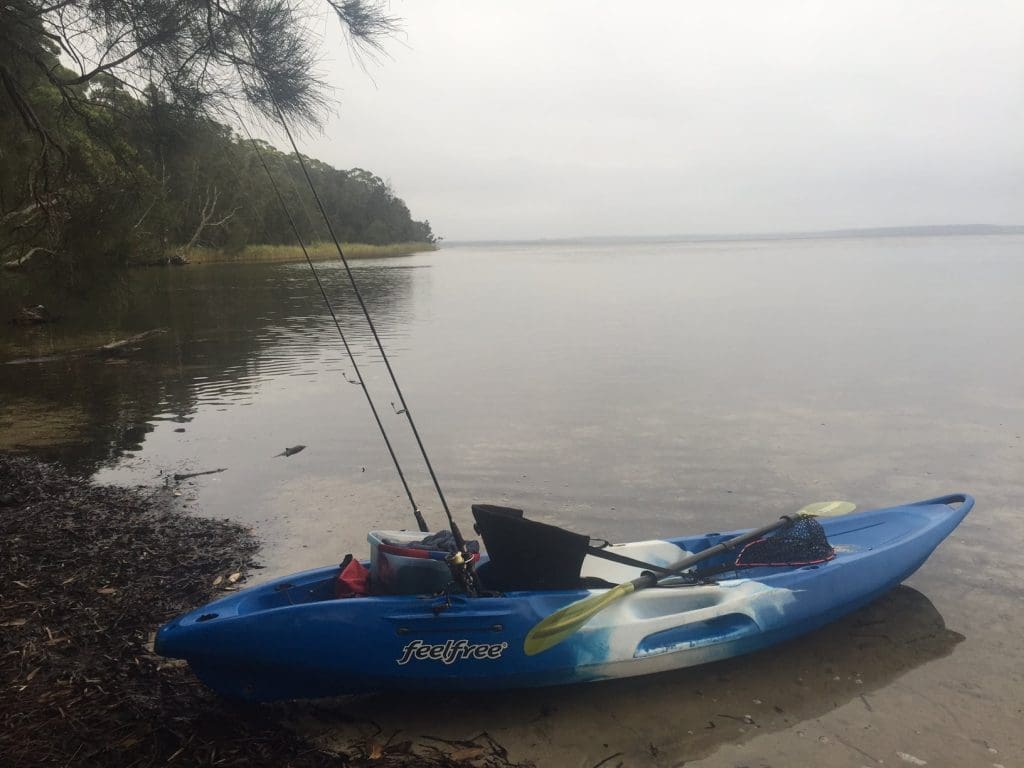 The key disadvantages of these kayaks are storage space is fairly minimal (both for carrying gear and for dealing with fish and setting up rods etc. while on the water). They tend to be shorter so do not cover distance all that quickly or paddle as easily up wind (a key considerations if fishing is some distance from the launch site) and they have a very basic deck set up – this means a basic seat, a single small hatch and an absence of accessory attachment areas,– albeit these can be bought as aftermarket parts and installed separately at home.
The Fishing All Rounder
These tend to be more substantial kayaks, designed for covering longer distances and include some more developed features that are specifically designed for fishing. Here you will find better quality seats, larger storage areas and more nooks to put away gear. You will also find a more advanced deck area with slide track systems to easily attach electronic gear, additional rod holders, tool boards etc. These kayaks generally range from 12 to 14 feet in hull length – the longer keel lines mean that they paddle faster and cover distance with ease. Some of the models have rudders or are rudder ready – this provides a substantial advantage in wind and chop. While they are heavier than the basic recreational cross over kayaks, I find their weight still very manageable and they are fine to load and move around the launch site. While a little less manoeuvrable in tight areas, they track very well and deal better with wind, chop and distance.
Wilderness Systems have a few models in this area – The Tarpon Angler comes in 10 and 12 feet lengths and I tend to fish with the 12 without a rudder. It's a great all-rounder and it's still light enough to easily manage off the car. I paddle the Tarpon mainly in estuary systems albeit it also gives me more versatility for more exposed bays. For those venturing further afield, the Wilderness Systems Thresher 140 is a great option. It provides a much drier ride in chop and swells and is 14 feet long with a rudder as standard. It can cover long distances easily and has heaps of space. I've tested the Thresher through surf and punching out was a breeze. From Feel Free kayaks, check out the Moken Angler 12.5. Particularly for the larger paddler, the 190kg carrying capacity is a real asset – as is the in-built wheel in the keel that makes it really easy to move around.
These kayaks do tend to require a little more planning and time to manage out of the water and the longer open water versions (such as the Thresher 140) creep into the 34kg mark – but with a little planning and technique they are still a one person job. While a step up in cost from the basic kayaks, they are still great value for the additional features and capability you get, making them very versatile.
The Fishing Machine
Now we venture into the higher end fishing speciality kayaks. Often the hull designs focus on very strong primary stability and a sizeable deck area. This allows the paddler to stand up and utilise the kayak as a true fishing platform. These kayaks tend to have high volume hulls that provide this stability and offer accessories such as stand up bars, hi-low seat designs and plenty of room on the deck to stand and change positions. For hands free fishing you can venture into a foot propulsion system. Some examples of these kayaks are the Lure from Feelfree, ATAK from Wilderness Systems and Slayer Propel from Native Watercraft. The Lure particularly offers great value and comes in 10, 11.5 and 13.5 (feet) sizes with the two larger models standard with a rudder. I've fished the 11.5. The seat is excellent and easily ratchets up and down. The stability is rock solid and easy to stand up in. I've also spent some time in the ATAK – for a high volume kayak it certainly covers distance well and is easy to paddle even in strong chop, this is due to its long waterline length (14 feet). It also feels very stable and I didn't have any issues in standing up and casting (apart from not catching much!!).
The Slayer Propel is the next step – it comes in 10 and 13 feet versions and the greatest advantage of the foot drive offered by Native Watercraft is that it allows both forward and backward pedalling. This is a great asset in a bit of wind (and there is ALWAYS a bit of wind around!!) particularly when drifting over drop offs or attacking structure. I find the Slayer really efficient on the water and transition from forward to backward movement is smooth.
The high end fishing speciality kayaks tend to require some more management off the water. This means a bit more time investment in loading and launching. The heaviest and largest of these are well into the 40kg range. The outfitting is high end and the hulls (in the good brands) are very robust. The foot pedal kayaks tend to be on the heavier end of the spectrum, although Native Watercraft market the Slayer 10 Propel as the lightest foot pedalled kayak around which might be a good option for those searching for a smaller foot driven solution.
If fly or lure fishing from a standing position is a key attribute or for those that are looking for very high stability, then these kayaks are fantastic. They can easily accommodate long days on the water with extremely comfortable seats, are easy to get in and out of and can even accommodate overnight trips with minimalist gear and judicious packing. The points to consider are the extra weight and time needed to launch and transport the kayaks. They are also not as nimble on the water as lighter kayaks, albeit rudders provide a lot of assistance in this area.
Hopefully the above provides some food for thought for those considering getting into fishing kayaks. It's really important to match the key areas of usage with the right type of kayak before plunging into the detail. There are lot of different choices out there, but focusing on the high level requirements is the best way to start. Beyond that, my best advice is to look for well-established quality brands which stand behind their products and can demonstrate some history and longevity. You really get what you pay for. It's really important to look for virgin polyethylene plastic hulls which offer a high degree of impact resistance. Usually you can tell that the hulls have a reasonable degree of plastic thickness as well as some flexibly which provides shock absorption. Recycled plastic feels rigid and these hulls are likely to be thin. Outfitting should be of good quality as cheap straps and buckles are likely to perish very quickly. Make sure you sit in it and see if it's actually comfortable or if your back starts to hurt in the first 30 seconds. Lastly, take a look at the hull design – does it have a keel line and channels running along its length and a nice curve in the hull which transitions from the v to the chines? If the hull is really flat with a shallow v, it might be great for storage on a pallet, but not so great for paddling (apart from going in circles).
The team at JBK is ways happy to have a chat so give us a call with any questions – or information about top notch flattie spots!!